Enjoy the natural beauty of Altenau, Harz, without having to pay a fortune for apartments or holiday lets!
Welcome to boardinghouse Grüne Insel (Green Island), Altenau in the Harz National Park

Those who don't know the Harz surely have missed something! On these pages you will get all the information you need on Germany's northernmost highlands.
What is great about the Harz National Park you should not miss to see? We offer special sightseeing tours, low priced but well apointed accommodation, historical sites, the complete northern highlands.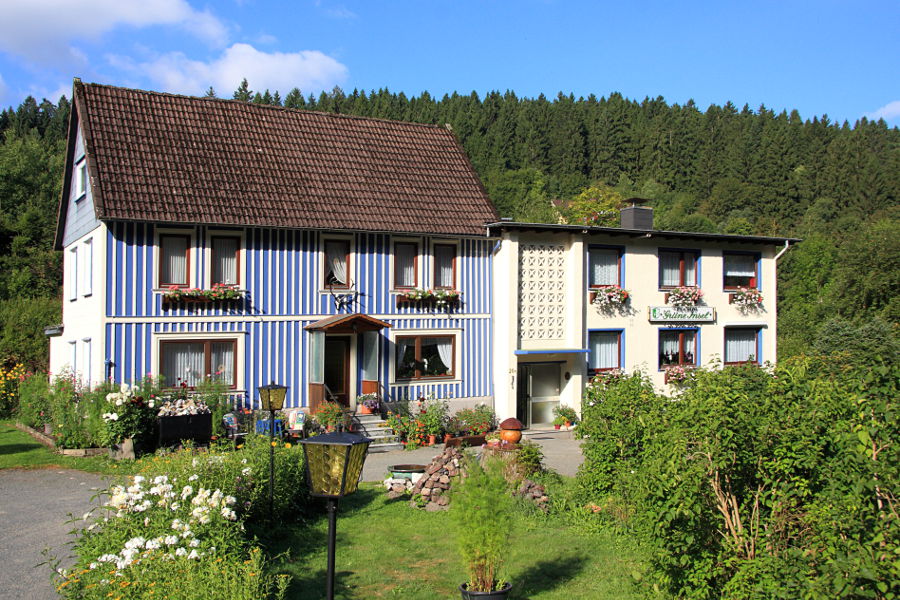 Picture: Our Boardinghouse "Pension Grüne Insel"
The highlands of the Harz National Park are an eye-catching summer and winter escape. Why don't you go skiing (downhill and cross-country) or bob running in wintertime? Let us plan your summer holidays with hiking, swimming, jogging or canoeing near Altenau or just in the Harz National Park! Get away from it all on countless hiking trails; enjoy the fresh air all over the year.

Enjoy the endless forest, and in between ponds & lakes and the typical meadows on the hills. It is the place where you find the characteristic flowers of the highlands, even Alpine species.

Walking along local paths, skiing, swimming in the lakes in summer, ice skating in winter – just a few options what you can do in this region. Guest house Grüne Insel is situated just there, at the Harz National Park, surrounded by forests and the Harz hills. It is your starting point for hiking tours or sightseeing. The city centre of Altenau can be reached easily by foot within only a few minutes.

By the way – a hiking trail for Nordic walking starts right in Altenau. If you are interested in it, ask for further information.


Lakes & highland mountains- the two faces of the Harz
 Special service for our clients:
Special reduced prices for the thermal pool and sauna "Heißer Brocken" Guests of Grüne Insel are offered a special reduced price (up to 20%), two free tickets for guests who stay longer than 8 days (incl. bed and breakfast). Please, ask for more information. 
Nature photography Are you into photography? Mr Hoffmeister is an experienced and well-known photographer, specialized on nature pictures of Harz flowers. If you need some advice or just information, please contact him. 
Hiking tours If you love hiking the Harz forests, valleys, and the mountain range, Mr Hoffmeister can help you. You can get more than 30 touring suggestions (detailed handouts available).